Priced around $499.
The NexStar Celestron telescope is a great little scope with its high-quality Maksutov-Cassegrain optics. The scopes computerized Auto Align, automatic tour, and the hand control with 4,000+ object database makes this Celestron telescope very user friendly.
I first viewed the planets and was given great views of Jupiter with 4 distinct cloud bands and some color. Jupiter's moons were clearly visible as was the shadow on Jupiter from Io as it orbited the gas giant. I then viewed Saturn and I could clearly see the Cassini division. The planets all had good detail to them. The optics were very good.
I then went on to view M81 and M82 with good results. Then came the Lagoon Nebula M8, Trifid Nebula M20, and the Ring Nebula M57 which had very good detail. If you buy this great little Celestron telescope you won't be disappointed in the views you will get.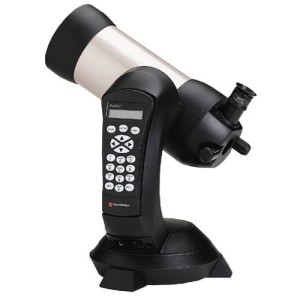 I would recommend the software that I use called Starry Night which is compatible with this Celestron telescope. Starry Night Software will provide you with information and pictures (taken by the Hubble Telescope) on any object in the night sky.
It will provide you with info on objects you are viewing and will help you plan your night's viewing by giving you the exact position of an object at any given time. It also gives you 3 different pollution settings so you will know exactly what you can and can't see from your area. I highly recommend it.
 Product Description
 Celestron telescope aperture – 4″ Maksutov- Cassegrain
Focal Length 1325mm
Focal Ratio F/13
Finderscope Star Pointer
Eyepiece – 25mm SMA (53x)
GO-TO Computer Hand Controller & 4000 Object Database
Motor Drive Integrated D.C. Electronics
Highest Useful Magnification 240x
Lowest Useful Magnification 15x
Limiting Stellar Magnitude 12.5
Mount Fork Arm
Optical Tube Length 13.5 inches
Telescope Weight 11 lbs
Tripod Available as an option
Recommendation
I can highly recommend this Celestron telescope. It is well built with excellent optics, it is light and portable. I found no problems with this scope. You will need to spend the extra money on a tripod, as I do not recommend you try and use a table it is simply not stable enough no matter what the advertising says.
You will find this Celestron telescope at Adorama the Binocular Center and at Telescopes.com