TeleVue Telescopes Pronto 70mm $775
F/6.8 Refractor w/2″ Star Diagonal, Eyepiece 20mm Plossl, carry case, 2″ or 1 1/4″ star diagonal or 45 degree erecting prism, 2″ focuser, 2″ to 1 l/4″ adapter, sliding mount ring with lock, dew shield.
TeleVue Pronto Green or Ivory Optical Tube only $775.
TeleVue Pronto 70mm Green or Ivory Tube finish $1,120
Even though the Pronto has the same optics as the Ranger, the Pronto has a true 2″ capability and a larger tube ring, a sliding dew shield, and a very nice carry case. Compared to the Ranger the Pronto weighs almost twice as much.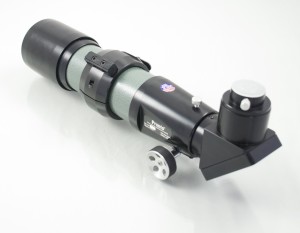 I had excellent viewing and very little false color on the brighter objects such as Jupiter. You can clearly see the Cassini division around Saturn. Titan was also clearly visible. Two of Jupiter's cloud bands were visible with some detail and also the great red spot. Jupiter's moons showed up as bright stars.
Deep sky viewing is very good also. I viewed M31 and M32 the Andromeda Galaxy which showed excellent detail and depth. I then went on to view many deep sky objects such as M33 (Triangulum Galaxy), M101 (Pinwheel Galaxy) then M81, M82 and several Star Clusters, all with satisfaction.
The TeleVue Telescope is for both Astronomical viewing, Terrestrial spotting and Photography. You can attach a 35mm camera to the Pronto with a camera adapter and standard T-ring. The 480mm focal length fills the film frame at almost 10 times the magnification of a normal 50mm lens. The fast f/6.8 speed will give you a shorter exposure time which is an advantage in darker lighting conditions.
The Pronto TeleVue telescope specification:
Power Range – 9x to 200x.
Visual Field – 5.5 degrees.
Eyepiece – 20mm Plossl.
Focuser – 1.5″ Helical.
Mounting – Lightweight.
Dew shield – Optional lens shade.
TeleVue Telescope Carry Bag – Optional.
TeleVue Telescope Weight – 3.5 lbs.
Objective 70mm E.D
Telephoto Lens 480mm f/6.8.
Photographic Resolution – 212 line pairs/mm
Construction Black anodized CNC machined aluminum, chrome plated brass. Powder coated aluminum tube.
Eyepiece 20mm TeleVue Plossl (24x).
Case – Protective travel bag with shoulder strap
Length 18 inches.
5 Year Warranty on TeleVue Telescopes.
TeleVue Telescopes Recommendation
The TeleVue Telescope is an excellent buy for anyone who wants a small portable telescope. Adorama is selling the range of TeleVue telescopes and also have (used) TeleVue from time to time at very good prices.